Meet Makeshift's Creative Technologist Ollie Glass 
For Mr. Glass, making and marketing web products is a walk in the park.
By cbm
Ollie Glass is a man who talks intelligently, often with his hands, a wry smile, and a twinkle in his eyes. A full-stack developer with a product management and digital marketing background, Ollie joined Makeshift to toe the line between hacking, marketing and product management.

Born in London, but raised in Wales and Bath, Ollie's first encounter with Internet companies came when he worked as a...wait for it... "Database Administrator". "The job taught me to put systems into place to maintain discipline," he says. "We were learning how to run applications at scale at one of the fastest growing Internet companies at the time." 
Never one to be told, "just do one thing", Ollie embraced most disciplines from an early age, taking A Levels in Maths, Physics, Philosophy, English and Photography. "Well-meaning friends told me I needed to choose one thing, to pick either maths and science or go down the photography or philosophy route," says Ollie. "But I railed against that and still try to integrate across disciplines today."
After graduating from the University of Sussex with a BSc in Artificial Intelligence and Computer Science, Ollie explored psychology and group work while working as a freelance technologist. Ollie studied psychoanalysis at the LCP and IGA, contributed to a social mentoring research group, ran a peer learning program and helped a counselling center measure its work to support its fundraising. 
"As well as satisfying my curiosity and helping my work, studying psychoanalysis gave me an angle on advertising and consumer behaviour," he says. "I was reading a lot of Thomas Sherman's writing, Hipster Runoff's posts and n+1 magazine at the time, the ideas interlocked and developed each other."
On the technical side, Ollie took on freelance work and built hacks like the Philosophy Explorer, reading semantic data from Wikipedia and visualising influences between philosophers.
Ollie also taught Processing and collaborated with artists, teaching them about programming. 
Programming languages are expressive languages, they give us ways to describe the world and create things in it
"Programming languages are expressive languages," he says. "They give us ways to describe the world and create things in it. Like the languages of film, music and photography, they make it possible to see and talk about new things, and talk differently about existing things." 
One of Ollie's collaborations was on Pendulodic, an interactive sound sculpture.

Pendulodic is an interactive sound installation that took live readings of colors and played different, coordinating musical notes.
During his time in Brighton, Ollie joined social consultancy NixonMcInnes working for Channel 4 on a Twitter campaign, designing a real time visualisation and data processing pipeline to understand conversations around TV.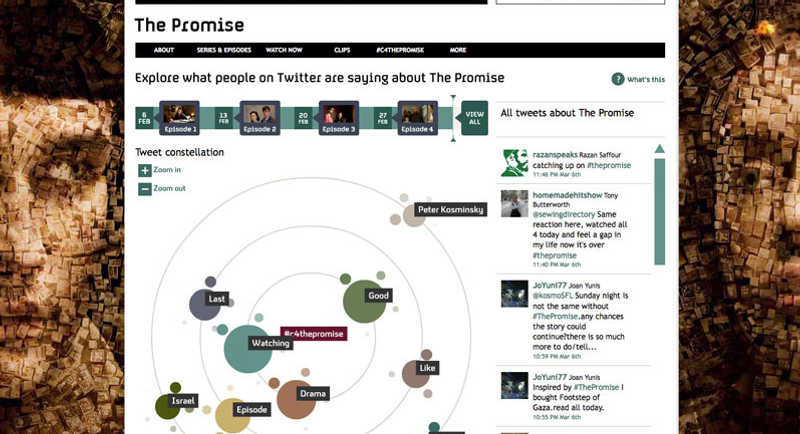 As a creative technologist, Ollie was able to grow and broaden his skills in marketing, product management and consultancy. As the agency began to change so did Ollie, and he found himself a job in London, working for one of the city's hottest startups at the time, PeerIndex.
PeerIndex applied cutting edge research to online influence, making it visible, relevant and valuable to businesses and consumers.
"It was an amazing company to be a part of," he says. "We were using cutting edge computer science research to understand influence in social networks, and making that relevant,  valuable and comprehensible to consumers and businesses."
After joining as a Growth Hacker, Ollie was quickly promoted to Product Manager and led the relaunch of its new service, which was designed to drive word of mouth marketing from consumers in exchange for perks and discounts from brands. 
Launched just in time for SXSW, two weeks later the company pivoted to a pure B2B model.
Building on his consumer product experience and wanting to meet other startup marketers, Ollie's founded the London Full Stack Marketers Meetup in July 2013. 20 people attended his first event at The Bakery, including Nick Marsh, Makeshift's co-founder, who approached Ollie with a job offer.
Since starting in September, Ollie has worked on Hire My Friend, Wrangler and Attending. He's now working on Honey, Makeshift's internal writing and audience development platform (what you're looking at right now!), clarifying the product's value proposition and using marketing technology to automate sharing and distribution.
When Ollie isn't shoulders deep in stats, product marketing and web development, he's walking. He says, "I really like walking, and London's a rewarding city to explore. I read the latest post on ribbonfarm and take a few hours to wander around, turn ideas over and unplug."
Fancy going on a walk with Ollie? Follow @ollieglass on Twitter, GitHub, his Blog (work) and Tumblr (play).